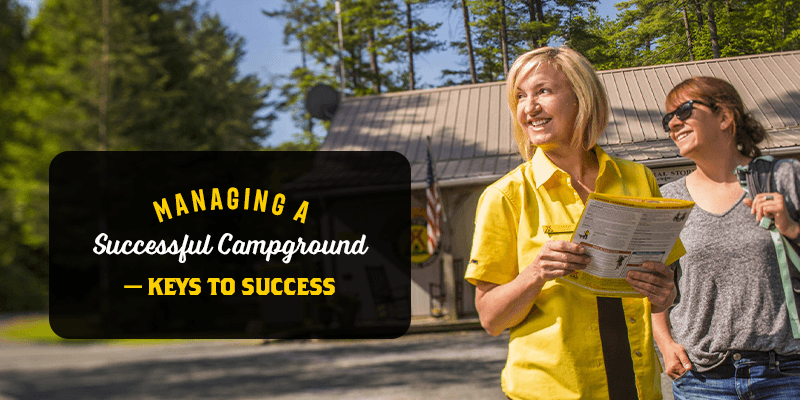 From checking in guests to maintaining the grounds, campground managers face many responsibilities each day. The right management techniques can help you form closer connections with employees and guests and set your campground apart from the rest. By revising your marketing and management strategies, you can closely meet your typical guests' needs.
Learn more about how to run a successful campground and how Kampgrounds of America, Inc. can help you get started with campground management.
1. Assemble a Helpful Team
A dedicated, well-trained staff makes campground management much easier. The more employees you have, the more of a personalized experience you can create for guests.
Consider hiring team members like:
Managers: On-site managers handle all guest questions or concerns during operational hours. From helping visitors fill out forms to directing them to campsites, managers perform many essential tasks for guest satisfaction. Depending on your campground's size and number of guests, you might hire multiple managers or just one.
Landscapers: You can also hire employees who maintain the grounds for guests. They could cut the grass, pick up leftover garbage, clean campfire pits and complete other maintenance tasks. These actions keep your grounds looking their best, which can improve guests' experiences.
Seasonal employees: Many campgrounds employ workers for peak seasons, such as the summer. These employees help you manage the influx of visitors during popular operation times.
2. Establish an Online Presence
High-quality websites and social media presences can elevate your campground's marketing. The online travel booking industry has grown significantly in recent years, with an estimated net worth of $475 billion as of 2023. You can appeal to this broad market by increasing your campground's online presence.
Build your online availability with features like:
Online reservation booking: Many prefer to book campsites and other vacation rentals online because of increased accessibility and ease. An online reservation system lets campers reserve locations at any point in time. You can remain competitive with other campgrounds by establishing a seamless booking experience.
A high-quality website: You can also enhance your campground's website to reflect details, amenities, images and videos of your campground. Uploading vivid pictures and videos gives campers an idea of what to expect when they arrive, which can increase booking rates. Other helpful details like prices, check-in and check-out times and nearby activities can also create a more credible website.
Social media: A social media presence can help you reach a wider audience and convince more guests to book campsites. Use platforms like Instagram, X, Tik Tok or Facebook to engage with potential visitors, provide updates on campground events, post campground photos and more.
3. Walk the Park Regularly
Regular park monitoring is essential for managing a campground. The more you survey your property, the clearer image you gain of ongoing activities.
Depending on your campground's size, you might walk through it once or twice a day. Some managers walk the perimeter, while others use golf carts or other vehicles to get around the park. Browse the area to see if anything needs cleaning or addressing. For instance, a campground guest might have a question you can resolve during your check-up.
Regular walks help you identify areas that need improvement. You can work with your team to acknowledge these lacking areas and brainstorm ways to enhance them. That way, you foster a culture of continuous improvement.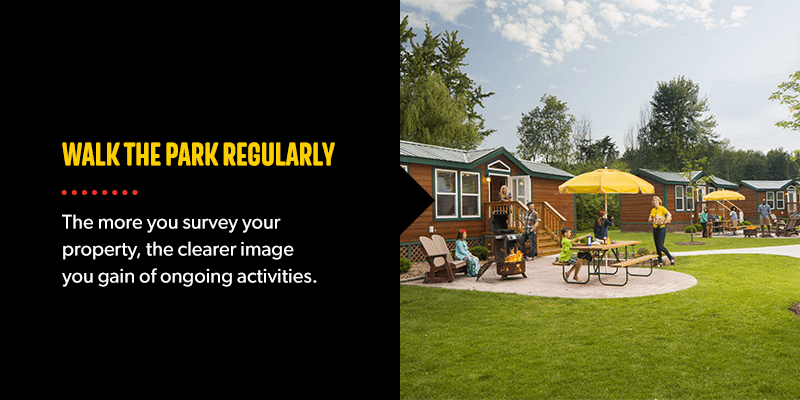 4. Interact With Guests
Another important campground management tip is to create strong interpersonal connections with guests. Positive interactions show guests you care about their satisfaction and well-being during their stay. A personalized approach makes visitors feel more welcome, which can increase the possibility of returning customers.
In addition to check-in and check-out procedures, you have many opportunities to engage with guests. Any encounter is an opportunity to display kindness and enthusiasm for their well-being. For instance, you could greet guests if you see them while walking through the grounds. Actions like offering to help with camp setup or asking if campers need anything can enhance their entire experience.
5. Optimize Your Amenities
Campgrounds can range from providing basic essentials to offering lush and exciting amenities. One way to improve your campground management is by evaluating how your offered amenities align with your target audience. New options can increase interest and enjoyment in your location.
For instance, if a significant portion of your visitors are families, make sure your campground offers family-friendly amenities. Playgrounds, swimming pools and other fun structures for children can set your campground apart from competitors. Exciting amenities might attract more guests and improve your brand reputation.
You could also develop programs and events that tailor to your typical guests. For instance, pool parties or water balloon fights can excite families and help with your profits by bringing guests together and encouraging visits.
6. Remain Aware of Competitors
Campground managers should also stay aware of nearby competitors. Facilities with similar amenities and structures can become competitors if guests begin choosing them over your campgrounds. By staying aware of their techniques, you can keep your marketing and upkeep on the same level.
You can use strong marketing techniques to amplify your campground offerings and keep them enticing for guests. Uploading professional images of your campground and surrounding areas can encourage more guests to reserve with you. Regular monthly or weekly events keep your location exciting for new and returning visitors.
In addition, reviews and testimonials can show positive experiences to prospective campers. Many people use reviews to differentiate different vacation options, making them crucial for your marketing. Encourage guests to leave reviews on your website and their social media platforms, especially ones that include photos of their time at your campground.
Manage a Campground With KOA Today
Campground management is a rewarding and profitable business venture. With the right management strategies, you can improve your campground's success.
If you want to own or franchise a campground, consider franchising with KOA Campground today. Our flexible franchise model lets you achieve your business goals while delivering an excellent experience for guests. Our robust experience in the campground hospitality space will help you reach wide audiences and facilitate tremendous business growth.
We offer many ways to join the KOA family. To learn more about buying or becoming a KOA, request more information today.