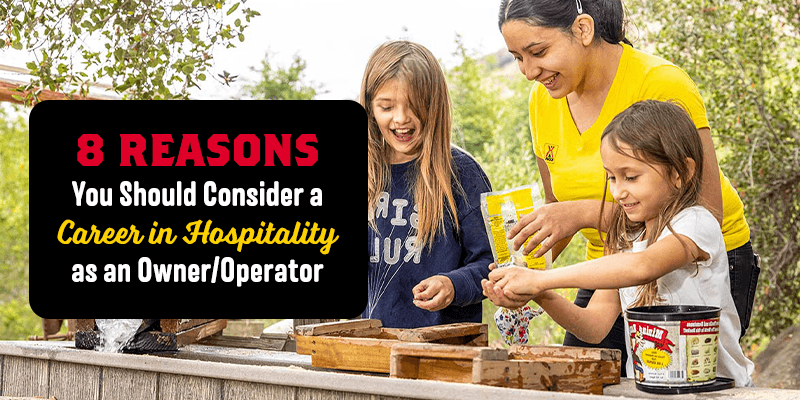 Do you enjoy creating memorable relationships and experiences with those around you? Perhaps you have a deep love for food and new adventures. A career in the hospitality industry as an owner or operator is the perfect combination of personal enrichment and exciting experiences for customers and hospitality professionals alike.
The hospitality market gained a value of over $4 billion in 2022 and estimates it will continue to rise to over $9 billion by 2028. This growth means it is the perfect opportunity to own, operate and build a hospitality business. Investing in a Kampgrounds of America, Inc. franchise gives you a career opportunity with one of the most recognized brand names in camping.
What Is the Hospitality Industry?
The hospitality industry is an umbrella with various fast-paced professions under it, consisting of four key areas:
Lodging
Travel and tourism
Recreation
Food and beverage
The hospitality business encompasses a wide variety of careers, meaning you will attract many passionate hospitality employees, giving you an opportunity to ensure campers have a positive experience and excellent customer service.
8 Reasons to Consider a Career in Hospitality as a Franchise Owner
As one of the fastest-growing industries, a career in hospitality may lead you to abundant growth and a successful work path. This dynamic field offers various reasons to pursue a hospitality industry career as a KOA owner and operator.
1. There Are Several Jobs in the Hospitality Industry to Manage
The most exciting benefit of joining the hospitality industry is the variety of career directions it includes for your employees. As long as you have the necessary hospitality skills and qualifications, you can manage diverse business types exceptionally well. There are also several hospitality and tourism industry careers and fields, widening your talent pool to hire and manage:
Marketing and business
Tour guides and tour operators
Restaurants, catering and eateries
Accommodations and lodging, like campgrounds
Entertainment organizers
Tourism and travel agencies
Health and wellness centers, fitness centers and spas
Pubs, clubs and bars
2. The Hospitality Industry Is Growing
The demand for leisure travel and vacations has increased. With its growth only rising, this makes it the perfect time to buy into the hospitality industry. A particularly exciting way to make the most of this growth is by operating a franchise.
With a franchise business, the company is already popular and has potential employees already excited to join the company. It also takes away the need to build a business in hospitality from the ground up, including finding an investor, creating a mission statement and establishing your brand before your company truly reaps the benefits of this growing industry.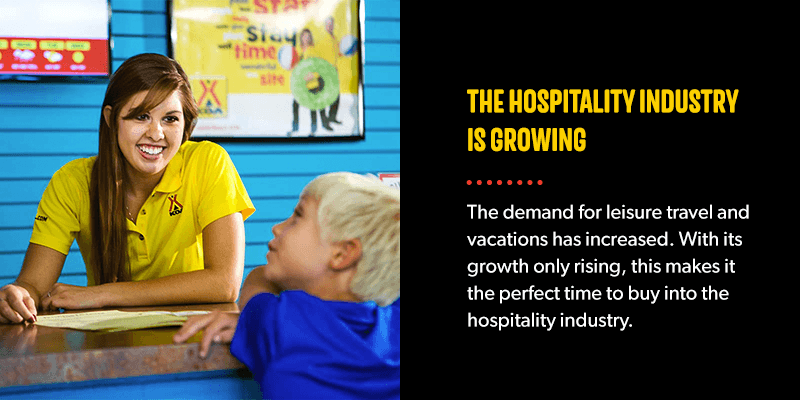 3. You Can Start Out With Strong Brand Recognition
When you start a business on your own, one of the challenges includes taking some time to build a reputation for your company. Fortunately, there are certain hospitality businesses with established reputations ready to franchise their business to other capable potential owners. By working with a business that has powerful brand recognition in the hospitality sector, you can easily attract customers, and they will see your business as credible before they even contact you.
A well-established reputation also indicates the franchise has the experience, tools and resources you need to operate your business efficiently. It is that extra layer of reassurance that this is a reliable franchise to work with. With KOA, you will benefit from national marketing and branding to save you time as you build your hospitality career.
4. You Can Easily Cultivate a Positive Work Environment
An upbeat mood accompanies hospitality. After all, when travelers book a stay somewhere, they expect a positive and relaxing atmosphere. These businesses may often help manage social gatherings and events that keep everyone excited on a daily basis.
As a campground owner and operator, you can fill your work environment with supportive hospitality professionals and create a collaborative, upbeat environment. That workplace positivity fills your days with fun while retaining employees and attracting repeat customers.
5. Hospitality Franchises Offer Consumer Marketing Support
When you buy into a KOA franchise, you can focus on your services and running the business as an owner, while the franchisor does all the marketing. You will see a lot of consumers coming in since KOA will provide you with extensive marketing support. This includes promotions, local marketing and national marketing campaigns to help you boost occupancy rates and improve loyalty.
6. It Provides Opportunities for Revenue Growth
With an established franchise in hospitality, you can access readily available programs and incentives to track and improve revenue growth. For example, you may receive revenue optimization tools that will allow you to access data such as location performance and consumer engagement rates to help you make informed business decisions. This will help you improve your operations and help you grow the business while reducing risk.
7. You Will Gain the Support and Community Needed
When owning and operating a business in a franchise, the franchisor will provide you with the knowledge, support and tools you need to operate the business efficiently. You might get to network and attend various valuable conventions, such as training seminars, workshops and panel discussions. KOA provides a peer network that allows you to connect with other managers and owners.
Collaborate with the KOA Alumni Association for "kampsitting" services when you need to be away for a few days, or connect with other owners and operators on social media to exchange tips and hospitality industry knowledge you have gained in your career. With this community, you can celebrate your successes and continue learning about the hospitality and tourism industry.
8. It Allows You to Make People Happy and Have Fun
Hospitality industry jobs are all about creating delightful experiences for people and making them happy. These careers are rewarding because they enrich people's lives and you get to experience some of that meaningfulness with them.
If you enjoy spending time with people and organizing events, a career in hospitality as a franchise owner may fulfill those values. With friendly employees and new events almost daily, this line of work is fun and exciting.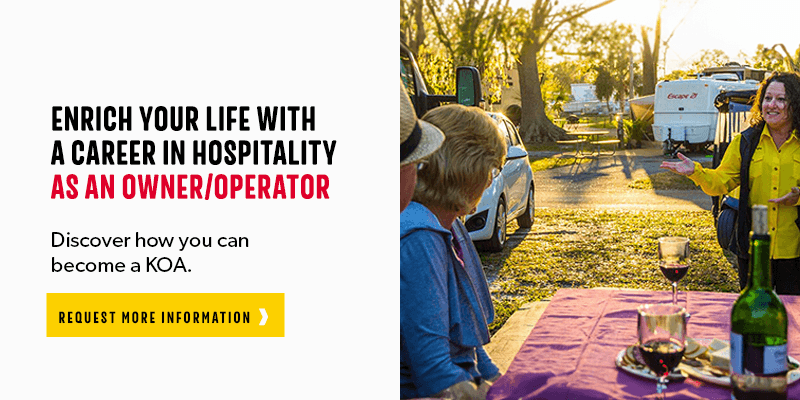 Enrich Your Life With a Career in Hospitality as an Owner/Operator
Are you interested in joining the hospitality industry? Join the KOA franchise today! KOA has 60 years of experience and nearly 500 locations throughout North America. With KOA, you become part of a positive community and make the most of effective marketing and proprietary analytics and reports. You will also gain the advantage of attracting both new and loyal campers through a widely recognized brand.
KOA allows you to choose from three different KOA campground franchise opportunities. This includes KOA Journey, Holiday, and Resort properties. Each provides campers with unique and exciting experiences.
Request more information to discover how you can become a KOA.