The KOA Franchise for
Multi-Park Owners
The Kampgrounds of America, Inc. (KOA) franchise is ideal for owners with multiple campground properties.
Our expertise in campground operations and consumer marketing drives more revenue and brings you more savings, delivering increased profitability and a better guest experience.
Why should I give KOA 10%* of my registration revenue in royalty fees?
Our royalty fees include services and tools critical to the success of your business. As a KOA franchisee, you no longer have to spend your financial resources on these crucial items, providing significant savings and giving you more time to focus on running your business.
CMS & Reservation Platform
K2, our proprietary campground management system, is the foundation for successful campground operations and is easily scaled for multi-park operations. Providing real-time reservations, system-wide data and analytics, K2 allows owners to optimize their business across all of their parks, maximizing revenue and customizing the guest experiences. K2 is a web-based platform, with seamless QuickBooks and credit card integrations. Using artificial intelligence, our Dynamic Site Optimization tool analyzes reserved sites, looks for opportunities for optimization, and automatically rearranges inventory for maximum efficiency and revenue.
2 M
Reservations Annually
Website
Each KOA Campground has its own landing page on KOA.com and the KOA app, allowing you to market your unique amenities and activities. With over 41 million sessions and 22 million users, KOA.com is the leading independent website for online reservations, driving 2 million reservations and over $344 million in online registration revenue annually. Our KOA mobile app, with over 430,000 downloads and $54.5 million in registration revenue annually, is designed to work hand-in-hand with the website. Your unique landing page will see more visits and generate more online reservations than any other stand-alone campground website.
Marketing
KOA is the #1 unaided brand in camping. Each year, KOA makes a large investment in digital media advertising to maintain our position as the top brand name in camping. We work with progressive ROI-focused agencies to ensure our marketing efforts are laser focused on increasing our customer base, bringing our franchisees more reservations and more new guests. KOA Campers are extremely loyal to our KOA Campgrounds – 61% spend 15 or more nights camping each year. And 41% have an annual HHI of over $100,000 – KOA Campers have the resources and interest to pay for quality camping experiences.
How can I be sure a KOA Franchise is right for my business?
On average, campgrounds that convert to KOA experience a 19% increase in registration revenue in the first year and 13% in following years. Our franchise renewal rate is 98%, proving that KOA owners and operators believe in the value KOA brings to their business. Built upon our pillars of Camper Growth, Revenue Growth, Operational Excellence and KOA Family, the KOA franchise delivers on your investment.
19%
Increase in Revenue in the First Year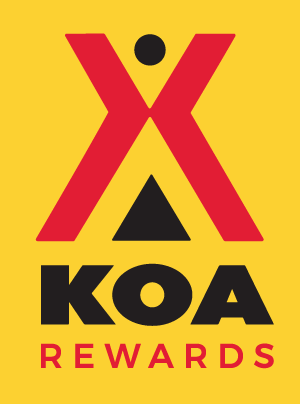 Why does KOA have a loyalty program with discounts on camping fees?
KOA Rewards campers are our best customers, and account for 54% of camper nights at KOA Campgrounds – generating more than $150 Million in registration revenue each year. In addition, these campers are our most loyal: 58% will look for a KOA first when looking to camp in a new market or shopping for a campground. As a KOA Campground you also have the opportunity to earn revenue by enrolling campers into the Rewards program and earn revenue from these sales: the average KOA earns $5,900 from enrolling guests annually in the program.
How much control does KOA have in my business?
While KOA provides the framework for your operations, you continue to control your daily operations as well as the vision and long-term goals of your business. Our focus is providing the thought leadership, tools and resources that allow each of our KOA Campgrounds the opportunity to be best-in-class. Our products, services and support are carefully designed to help our owners succeed. At KOA we are continually innovating, ensuring we are first to market with the latest products and services campers are looking for.
How can KOA improve my campground operations?
Operational excellence is the cornerstone of our success. Our team provides state-of-the art solutions from campground design to site improvements, offering in-house expertise on ADA compliance and electrical systems. KOA also offers robust business intelligence tools, providing valuable insight into metrics such as camper nights, rate management and site performance. As a multi-property owner, you will be assigned a specialized Business Development Consultant, providing one-on-one consultation and training, as well as the development of your portfolio's Best Campground in the Market Report, a custom analysis of your current operations. These services are available to our franchisees at no additional cost, saving you tens of thousands of dollars in design and consulting fees.
Owning a portfolio of
campgrounds is complicated.
Let KOA Make It

Easier.
*Royalty fees paid to KOA reflect a Royalty Fee of 8% of camping registration revenue and an Advertising Fee of 2% of site registration revenue.
KOA royalty fees are based solely upon site registration revenue. No royalties are paid on store sales, propane or other services such as food.