K2, The Leading
Campground Reservation Software
K2 KampSight is KOA's most recent evolution of its proprietary campground management system and the foundation for a successful KOA campground operation.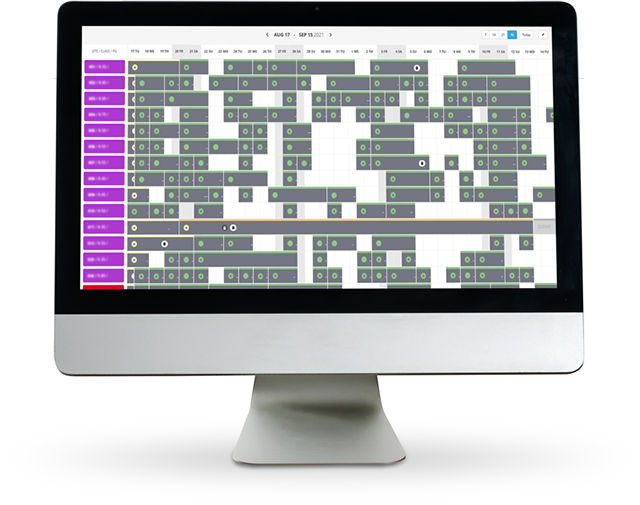 In 2022, K2 KampSight Performed:
8 Million
Credit Card Transactions
4.3 Million
KampStore Transactions
About Our Campground Reservation Software Title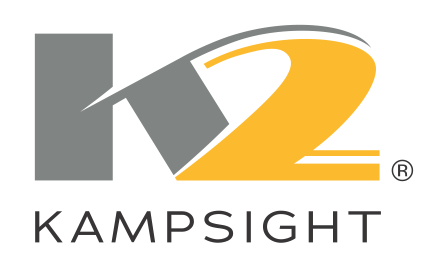 K2 KampSight combines our nearly 6 decades of operational experience with rich, system wide data and analytics that positions our owners to optimize their business in any given market.
K2 KampSight is delivered via a web-based platform that is easy to learn across all levels of staff and includes in-application training modules.
It is flexible to meet the needs of every type of campground from seasonal to long term and scales for multi-park management. K2 KampSight will simplify your front desk and back office operations allowing you more time to work on your business and not just in it.
Custom Built For Managing Campground Reservations

Top Feature
Dynamic Optimization
Dynamic Optimization streamlines business operations utilizing complex algorithms and provides the opportunity to book more reservations.
This feature frees up space for additional reservations during busy periods while allowing staff to focus on other areas of work which further increases the opportunity to grow revenue.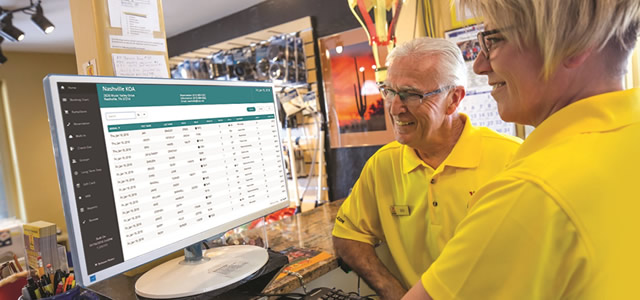 Top Feature
Online, Real-Time Reservations
Over 2 million reservations each year are made at KOA campgrounds through KOA.com. K2 KampSight interfaces directly with our website to keep your inventory and rates up to date. All reservation deposits go directly into your bank account.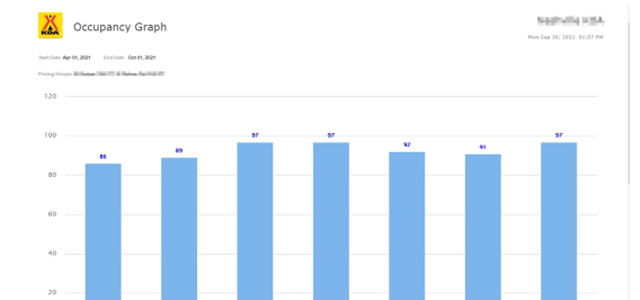 Top Feature
Robust Reporting
An array of operational, accounting and analysis reports are available within K2 KampSight to help you manage your business goals. Reports benchmarking your rates and occupancy against other KOA campgrounds give you the benefit of insight into the greater system.
More K2 KampSight Features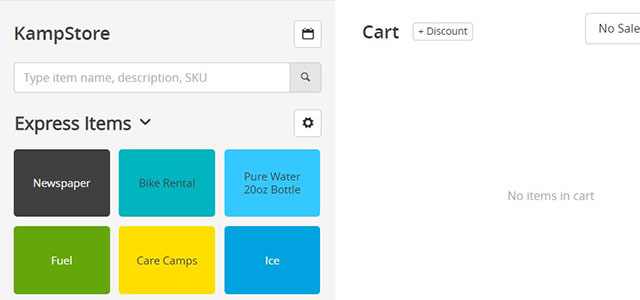 KampStore Retail Module
Integrated point of sale system eliminates the need for separate cash registers for store transactions. Campground managers have the flexibility to create organized groups of color-coded options for common transactions – making the process faster and more efficient.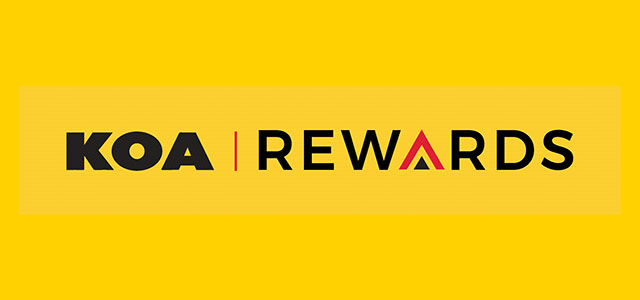 KOA Rewards
K2 KampSight ensures all KOA Rewards guests have a consistent experience by giving campgrounds the ability to identify KOA Rewards members, access account details, sell & renew memberships, give Rewards discounts, and Pay with Points, all from inside the reservation.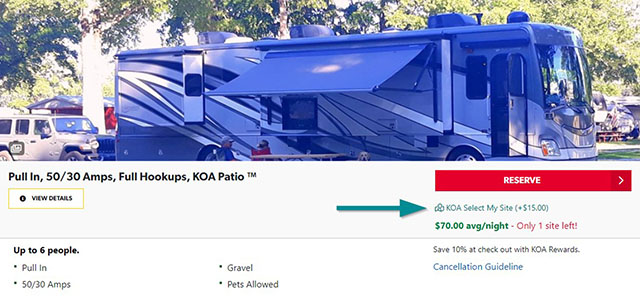 Select My Site
Select My Site gives campers the flexibility to choose the site for their stay, while at the same time increasing revenue for the campground. It also reduces redundant communication from campers who would like to request a certain spot during the pre-stay or check in processes.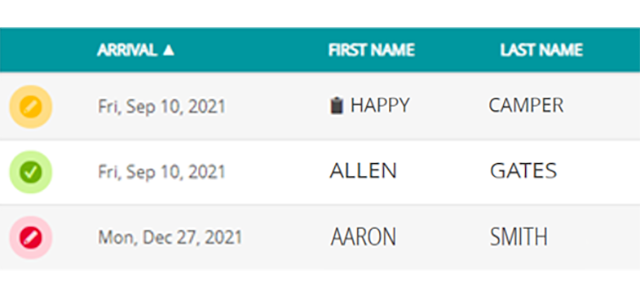 Express Check In
Streamline the check-in process by communicating early to upcoming campers, allowing them to complete a pre-check verification and speed up the front desk check in procedures.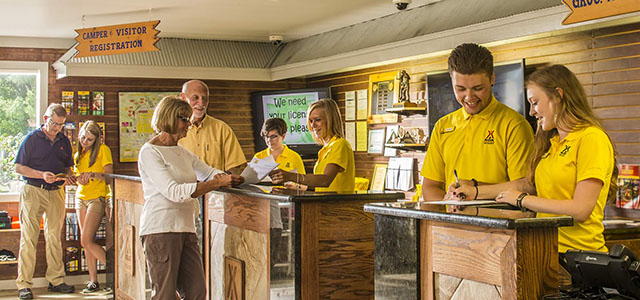 Actionable Guest Feedback
Automated emails soliciting guest feedback are delivered following each stay and provide valuable insight to the owner on areas for improvement in facilities and service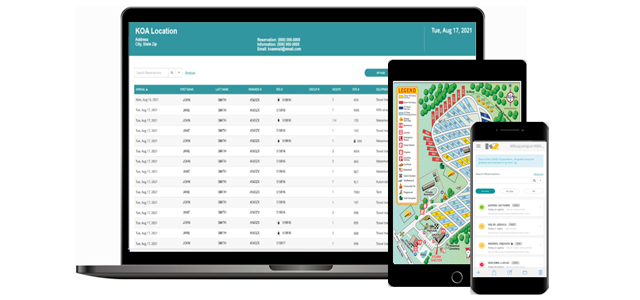 Revenue & Site Inventory Management
Campground owners have complete control and flexibility over site pricing and fees, as well as visibility and availability for any site on the campground.
K2 KampSight Integrations
QuickBooks Accounting
K2 KampSight downloads transactions and revenue directly to QuickBooks for seamless management of financial goals, and our staff is on hand to assist with your accounting needs.
Credit Card Processing
The K2 KampSight software integrates seamlessly with an EMV-enabled credit card solution with low transaction rates guaranteed to our system, and our fraud protection is state-of-the-art and constantly improved.
K2 KampSight Service & Support
Real Person Tech Support
Our Technology Support team is available seven days a week to help you and your staff with our software. All of your data is automatically backed up and all software updates are handled by KOA.
Ongoing Improvements
As a user of K2 KampSight, your business is supported with regular updates, improvements, and new features. Rest easy that this already polished software will get better with our roadmap.
KOA Guest Database
Our guest database allows campgrounds to keep secure up-to-date information about campers, helping them better communicate and engage with previous guests, and improve their Net Promoter score.
Our Commitment to Security & Privacy
At KOA, we know that security and privacy are crucial to your business. That's why K2 KampSight protects your information by maintaining industry standard encryptions, complies with applicable laws and federal standards, and adheres to privacy and security guidelines set by PCI, GDPR, CCPA, and PIPEDA.
K2 KampSight, our proprietary campground reservation software, is a powerful tool that is proven to optimize our KOA campground reservation process. If you are interested in utilizing K2 KampSight, please fill out our
information request form
.