Investing in real estate by owning a campground can create a steady profit as long as business owners know what to avoid and where to focus their energy. The camping industry saw a 2.7% growth in revenue from 2014 to 2019. This growth continues as the younger generation embraces outdoor lifestyles across the United States and Canada.
Owning a Campground Income and Expenses
Campgrounds typically create a return on investment between 10% and 30%. Your particular profits depend on how much work you are willing to put in and your expertise in the industry. Campground owners make the highest income by taking advantage of peak seasons, especially summer months, as most campers vacation during these times.
Those considering campground ownership should also account for expenses. The initial cost to open a campground can range from $1 million to $4 million. These estimates consider the cost of purchasing land or an existing campground and paying for other expenses like renovations. After the high initial startup costs, profit becomes higher, though owners must still consider expenses like staffing, marketing, equipment and adding amenities.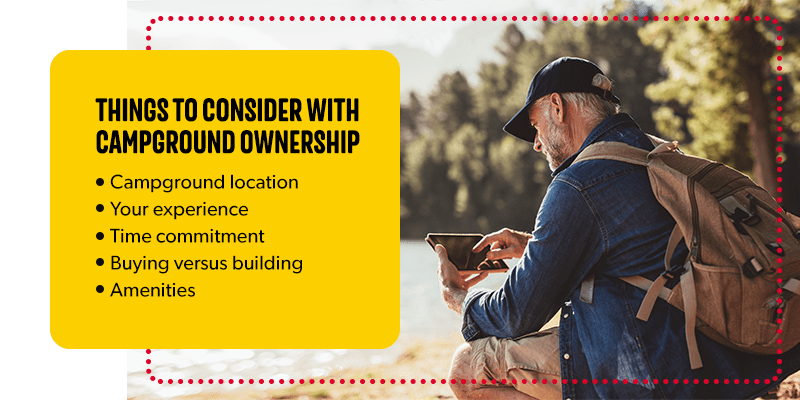 Things to Consider With Campground Ownership
When determining whether owning a recreational vehicle (RV) park will be a profitable business venture, here are a few other factors that may impact revenue:
Campground location: For the highest success, campgrounds should offer convenient access to outdoor spaces while being close to local towns.
Your experience: If you are new to the camping industry, you might benefit from the expertise of a franchise to help you streamline your business for better profits.
Time commitment: The more time you put in, especially during busy months, the more you can maximize your profits. During slower months, you can often relax and take some time off.
Buying versus building: Buying an existing campground might lower startup costs, but you may need to do more maintenance and updates later.
Amenities: Adding features like playgrounds, pools and cabins can make a campground more attractive to prospective campers, increasing your business.
Ultimately, owning a campground means working for yourself, setting your hours and enjoying free on-site living. Much of your profit depends on what you put in. Those willing to spend time and energy to increase their campground's reputation and cater to guests' desires can make campground ownership a profitable endeavor.
Join the KOA Family of Campgrounds
If you are considering campground or RV park income and expenses, this industry provides excellent profit opportunities for those willing to work through the initial startup costs. Consider investing in the Kampgrounds of America, Inc. franchise to get benefits like marketing and programs to help your campground succeed. For more information, fill out an online contact form today.