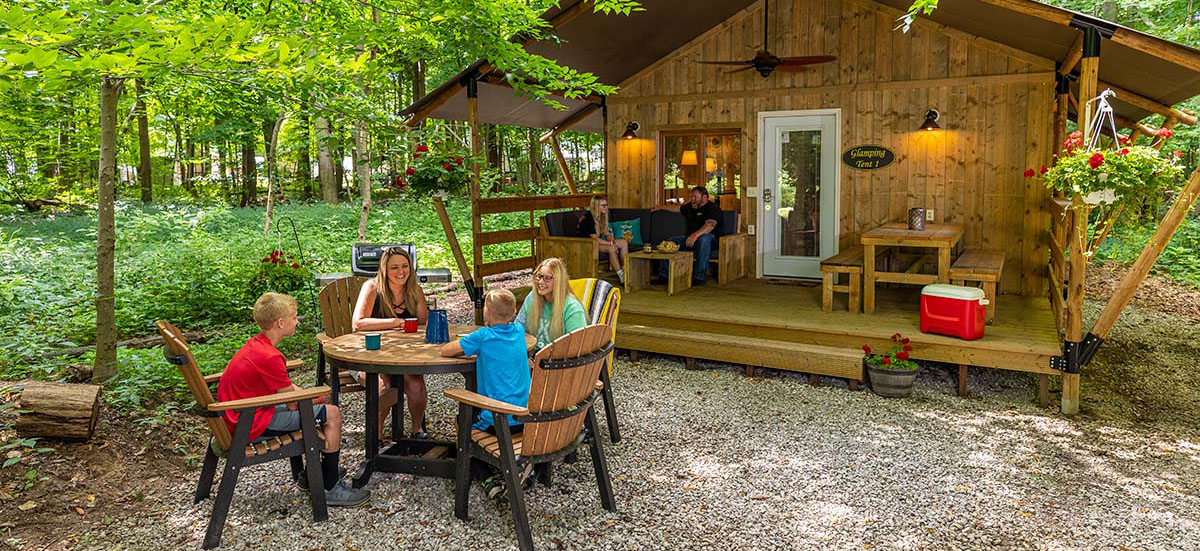 RV Campgrounds for Sale
Finding small campgrounds or RV resorts for sale is an excellent opportunity to start your campground ownership journey. Owning a campground allows you to earn a profit and rely on a steady, dependable income while enjoying the great outdoors and socializing with fun campers. Kampgrounds of America can help you find a profitable campground business for sale in a location that meets your needs.
Benefits of Owning a Campground
Become a campground owner to start truly enjoying your career. Owning a campground is a fun, exciting way to earn an income and generate profits. Spend your time helping families, couples and individuals of all ages have a fun and comfortable camping experience. Owning a campground has the following benefits:
Excellent Profit Potential
Generate profits with a well-managed campground. If you effectively manage and operate your campground, you can expect to earn high profits within the first few years. Once you build steady patronage, you can start receiving a significant return on your investment.
Camping and RV travel is popular among people of all ages. Families often choose camping as a fun, affordable vacation option, and many older adults spend their retirement traveling the country in an RV. Even high school and college graduates leave their homes behind and explore the country in RVs or backpack across the country and camp in tents along the way.
People young and old will always need safe and convenient places to park their RVs, pitch a tent or spend the night in a cozy cabin.
Recession-Proof Income Source
Earn a stable and dependable income by owning a campground. Campgrounds provide people with affordable places to vacation and sleep. Camping has always been a popular vacation option among families because it is more affordable than booking expensive hotels, and it often provides kids with plenty of fun outdoor activities. People will still desire to escape on relaxing and fun vacations even during a recession, and many families will choose affordable campsites even when their budgets are tight.
Flexibility
Be your own boss and make your own business decisions when you own a campground. Enjoy the flexibility of creating your own schedule and managing your business the way you prefer to. Owning a campground gives you the freedom to make decisions based on the campground's needs and your personal schedule.
Opportunities to Meet New People
Have fun meeting new people when you own and manage a campground. Campgrounds foster a sense of community among frequent campers, and you will have plenty of opportunities to socialize with people. Whether you are teaching someone how to build their first campfire or helping a family find fun nearby places to explore, owning a campground is a rewarding experience.
Individuals of all ages, backgrounds, cultures and genders enjoy camping, which allows you to interact with interesting people and make new acquaintances. Since many people frequently return to campgrounds they love, you may even make a few friends along the way. Enjoy watching families have fun and grow over the years as they continue to visit your campground, and socialize with interesting travelers before they move on to their next destinations.
Time to Enjoy the Great Outdoors
Enjoy the fresh air and beauty of nature while you work. Owning and managing a campground means that you will often spend time in the outdoors surrounded by beautiful views. Being in nature can reduce stress and make work feel more fun.
What Should I Do if I Want to Buy a Campground?
You will need to provide at least $250,000 in cash to purchase a KOA Campground. Before buying a campground, it is essential to determine your financial ability to meet campground ownership needs and goals. Calculate your available campground-purchasing funds using KOA's Net Worth Estimator and then find your ideal campground price range to match your available funds using KOA's Startup Costs Estimator.
Finding the right lender is also important when buying a campground. Secure financing with a bank that can meet your needs and help you reach your goals. KOA has a partnership with Montana's Independence Bank to help new campground owners meet the needs of financing and maintaining a campground.
Finding RV parks or small campgrounds for sale near you or your desired location is the next step. Since you will spend significant time managing your campground, you will likely want to choose one close enough to give you an easy commute.
How Can I Find RV Campgrounds for Sale Near Me?
Find an existing KOA Campground for sale in a location that meets your needs. With over 500 campground locations and close relationships with franchisees, KOA can help you find your perfect KOA location. KOA has insight into campgrounds available for purchase and ones that will soon be on the market.
KOA Campground Options
If you are looking for campgrounds and RV parks for sale near you, KOA offers various options. KOA Journey, Holiday and Resort locations provide different amenities and activities to serve campers' needs. Before purchasing a KOA Campground, consider the following campground types and their exciting features:
Journey
KOA Journey Campgrounds are perfect locations to provide travelers with places to stay after long days on the road and give families a place to get away and relax for a while. No matter where your guests are traveling, you can offer them comfort and convenience when you own a KOA Journey location.
KOA Journey Campgrounds include Pull-Thru RV Sites with 50-amp service and Premium Tent Sites along with the following amenities:
KOA store
Playgrounds
Laundry facilities
Clean bathrooms and hot water
Holiday
Consider owning a KOA Holiday Campground to provide campers with the ideal place to play, relax and explore nearby attractions. KOA Holiday locations across the United States provide Premier Tent Sites, Patio RV Sites and Deluxe Cabins with full baths.
KOA Holiday Campgrounds also feature group meeting facilities and various amenities and activities. All KOA Holiday locations provide clean bathrooms, hot water, a KOA store, laundry facilities and playgrounds, but some locations also offer additional perks and fun recreational activities.
Resort
Purchase a KOA Resort Campground to give people an enjoyable vacation experience in the great outdoors. KOA Resort locations offer extra recreational and staff-led activities to ensure campers can have fun and relax during their stay without even leaving the campground. KOA Resort Campgrounds provide the same basic amenities as Journey and Holiday Campgrounds, along with additional perks. Amenities vary by location, so different KOA Resort locations can include some or all of the following perks:
Pool
Hot tub
Fishing
Boat dock
Mini golf
Snack bars
Bike rentals
Restaurants
Game rooms
Sports courts
Horseback riding
KampK9® dog parks
KOA Resorts offer camping and lodging options such as Patio RV Sites, Deluxe Cabins with full baths, Premium Tent Sites and unique lodging options based on the location. Buy a KOA Resort Campground to give guests a relaxing, fun and exciting experience.
Purchase a KOA Campground
Purchase a KOA Journey, Holiday or Resort Campground to start your campground ownership adventure. KOA Campgrounds provide campers with convenient amenities, fun activities and knowledgeable staff to make their stay as fun and comfortable as possible. Owning a KOA Campground means that you will have support from KOA whenever you have questions or need help meeting your guests' needs. Fill out an information request form to learn more about buying a KOA Campground.
Newest Campgrounds for Sale
All Campgrounds for Sale
14 Total Campgrounds for Sale