Camping is a growing industry. People are seeking affordable vacation opportunities and transitioning to remote work, which allows for more travel. Starting a campground can cost between $100,000 to $2 million to buy an existing campground or purchase the land to build. Those considering this industry should also add costs like renovation, insurance and amenities.
How Much Does It Cost to Open a Campground?
The startup cost for an RV park or campground differs based on many factors. The main cost differences come from building a new campground or buying and revamping an existing campground.
Starting a New Campground
A new campground often costs about $15,000 to $50,000 per site, depending on what each one needs. This cost includes full hookups, gravel roads and pads for recreational vehicles (RVs). For the best chance at revenue, a campground should have 75 to 90 sites. Land costs add about $3,000 per acre to the startup cost.
Other factors like available utilities, topography, zoning and code requirements also impact how much campground owners spend during startup. Adding electricity costs about $1,500 to $2,500 per site. Water might cost $5,000 to $12,000 for a well or $1,200 per site for city water hookups.
Beyond site costs, campground owners must consider additional buildings. An office building might cost $15,000 to $80,000. Quality restrooms add about $20,000 to expenses.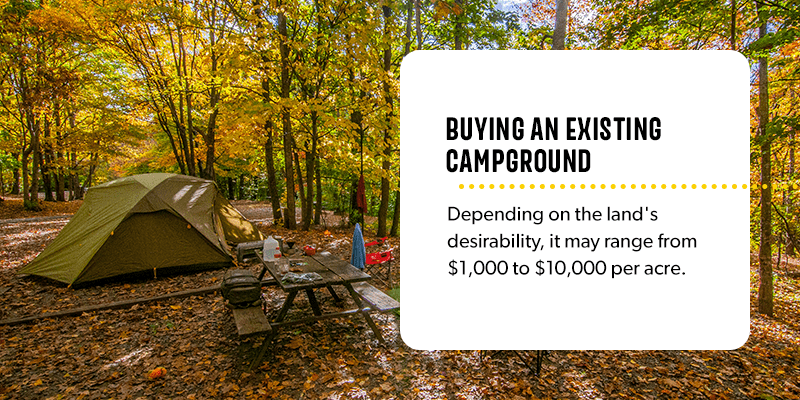 Buying an Existing Campground
Buying an existing campground can eliminate costs like planning and zoning that those starting new campgrounds must consider. A new campground might cost $100,000 to $2 million, plus repairs. Depending on the land's desirability, it may range from $1,000 to $10,000 per acre.
While buying an existing campground might seem more cost-effective, new owners must consider additional modernization costs like updating facilities or adding new amenities. These features can add $10,000 to $50,000 to the total costs.
Additional Costs to Start a Campground
Beyond buying land and building the necessary structures for a campground, owners will have other costs. Insurance, for example, adds about $450 to $1,500 per year for general liability. Many campers also desire an internet connection. The initial setup for this system costs about $3,000, with monthly costs ranging from $250 to $500.
Get Help From Kampgrounds of America
Learning how much it costs to start a campground can give you a better idea of whether this business decision suits you. If you want support in this venture, consider building or buying a Kampgrounds of America, Inc. Campground. As part of the KOA franchise, you can own and manage your own business with the power of the KOA brand behind you. Contact us to learn more about joining the KOA Family of Campgrounds.