Current attention on the camping industry is at an all-time high. As interested parties analyze entry points, the merits of becoming a campground owner and, potentially, a franchisee, are attractive considerations. But as in any business, the most important factor remains unchanged: location, location, location.
Kampgrounds of America, Inc. (KOA) is the global leader in outdoor hospitality, and the value of being a KOA franchisee is well documented. With over 500 locations across North America, KOA has become a household name for camping enthusiasts.  While KOA has many locations across the United States, there is significant room for expansion and growth in Canada which currently has campground opportunities from British Columbia to the Maritimes in prime markets.
The increase in demand for outdoor recreation, along with its untapped natural landscapes and strong camping culture, all make Canada a hotbed for campground ownership. Last year was record breaking for KOA locations in Canada, and with 74% of campers planning to do more of the same this year, it's poised for another winning campaign.
As people continue to prioritize outdoor activities, camping has become a popular option for families and individuals looking to get away from the hustle and bustle of life while doing it affordably. Camping provides an opportunity to connect with nature and spend time with loved ones, and KOA offers an impressively wide variety of activities and amenities to make camping more comfortable, joyful, and memorable for all walks of life.
Those customers are also part of a strong camping culture. Canadians love to camp, and it is a popular activity for families, friends, and individuals. According to the Canadian Camping and RV Council (CCRVC), camping and RVing is a $8.9 billion industry in Canada, and the number of campers and RVers is steadily increasing year over year. Pair this with KOA's unparalleled support and service, with its industry-leading software and online reservation systems, marketing presence, in-house design team and dedicated business development consultants, and you have everything you need to make your camping business dreams come true.
Another contributing factor to Canada's optimistic outlook is the growing trend towards RV travel. For those seeking the joys of the outdoors, RVs provide a level of comfort and convenience they may not find with tent camping. KOA has gotten ahead of this trend by offering level, pull-thru 50/30-amp RV Sites with full hookups and Wi-Fi, among other amenities. Add with new site types like KOA Patio® RV Sites and Paw Pen® RV Sites, KOA showcases how they treat RVers like royalty.
The natural beauty of Canada is no longer a secret and there is a groundswell of interest in exploring it. Canada is home to some of the most breathtaking natural landscapes on earth. From the rugged coastline of the Atlantic provinces to the towering mountains of the Rockies, the land boasts a wide variety of pristine locations for camping. KOA has built its brand around offering a superior camping experience for families and individuals, and Canada is the perfect backdrop for such an experience. With a KOA franchise in Canada, and its vast resources at your back, you can tap into and showcase the kind of world-class natural beauty and unique experience you and your customers dream of.
The outlook for camping in Canada is bright.  Even with external economic headwinds, KOA is confident the stronger tailwinds will push the industry through yet another winning season and beyond. With Canada's untapped potential and KOA's support, a path to successful campground ownership is before you.
For more information on owning a KOA franchise, please contact: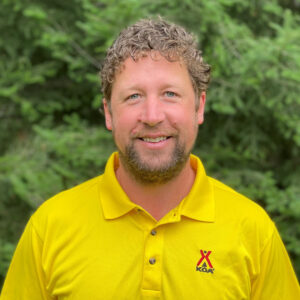 MATT STOVOLD
Franchise Development Manager – Canada
mstovold@koa.net