Campground marketing involves reaching out to campers in your area and beyond to show them that you offer a must-visit spot with amenities and activities that make your campground the best choice. How can you promote your campground to gain more business? This article includes a few helpful tips to try.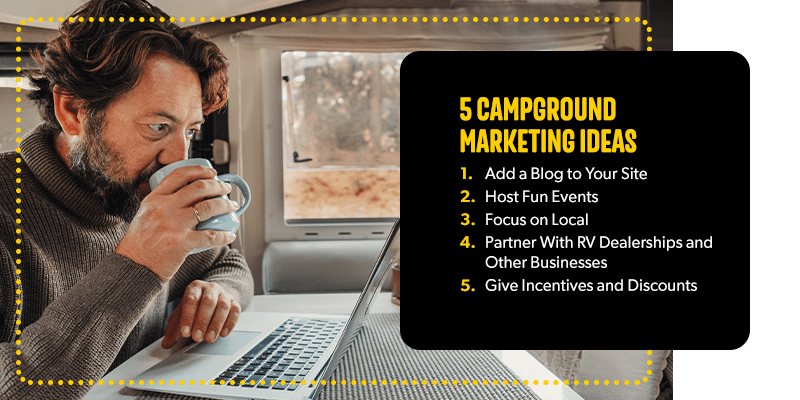 5 Campground Marketing Ideas
Here are five campground advertising techniques you can use to bring in more guests for tent, recreational vehicle (RV) or cabin camping.
1. Add a Blog to Your Site
Blogs share helpful information about your area and demonstrate expertise about particular camping topics. When people look for local activities, camping advice or exciting places to visit in your area, your blog posts will appear in online searches. When people read your blog posts, they will see your expertise and might choose your campground for their next trip.
2. Host Fun Events
Campers like to enjoy activities on-site while they stay at a campground. These activities give them something to look forward to after a long day of exploring or on a day they spend relaxing at the campground. Plan events catering to many age groups and interests to draw in guests. You might host a bingo night, arts and crafts activities or a group nature experience.
3. Focus on Local
Many campgrounds get most of their business from people within a small distance from the campground. Help your marketing reach this group by using local media like a TV station or small newspaper in your town. Also, stay involved in your community. Maintain a local presence and show you care by sponsoring local events or setting up a booth at a festival.
4. Partner With RV Dealerships and Other Businesses
Ask a local RV dealership to hang flyers for your campground, so people buying RVs get ideas for where to bring their new camper the next time they take a trip. You can also ask local businesses like restaurants and stores to hang advertisements for your campground. In return, you can advertise their services to guests at your campground. Create a blog post advertising a local restaurant or recommend the restaurant to guests looking for places to eat in the area.
5. Give Incentives and Discounts
When considering several campgrounds in an area, customers will choose one that meets their needs better or provides an added incentive. You can cater to new guests with offers like discounts on extended stays, complimentary services and discounts for referrals. Return guests might camp more often if you offer a loyalty program with incentives like rewards points that accumulate for future stays or special free nights for loyalty program members.
Propel Your Campground Forward With Kampgrounds of America
Another unique way to promote your campground is to invest in the Kampgrounds of America, Inc. franchise. As a member of the brand, you get the automatic advantage of KOA brand name recognition, which can help bring in more campers. You also gain access to proprietary analytics and reports to guide your marketing efforts. If you want to learn more about becoming a KOA Campground, express your interest online.