Kampgrounds of America used a Satellite Media Tour to promote camping throughout North America. The tour was held at the Billings, MT KOA Holiday and connected KOA with media outlets throughout the U.S.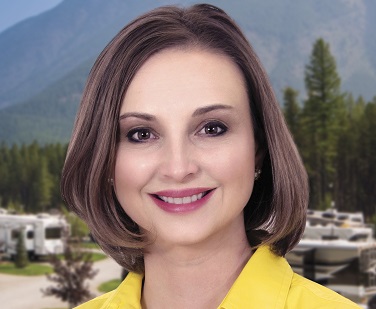 This year, KOA President & CEO Toby O'Rourke spoke directly to news outlets in both live broadcasts and taped segments. O'Rourke's message centered on the popularity of camping as the U.S. and Canada emerge from the effects of COVID-19 governmental limits on business. The broadcasts also utilized data from the recent 2020 North American Camping Report / North American Camping and the Effects of COVID-19.
Televised segments have aired on the national Fox Business Channel, as well as locally in Denver, CO; Lincoln, NE; Phoenix, AZ; San Francisco, CA; Sacramento, CA; Los Angeles, CA; Green Bay, WI; Indianapolis, IN; Cincinnati, OH; and Peoria, IL. Links to those segments are below.
Click to view Fox Business (National)
Click to view KDVR/KWGN (Denver)
Click to view KTVU (San Francisco)
Click to view KXTV (Sacramento)
Click to view Spectrum News1 (Los Angeles)
Click to view WFRV (Green Bay)
Click to view WISH (Indianapolis)
Click to view WKRC (Cincinnati)
Click to view WXIN (Indianapolis)
Additional segments will air later in Chicago, IL; Philadelphia, PA; Houston, TX; Atlanta, GA; Miami, FL; Cleveland, OH; Baltimore, MD; Hartford, CT; Norfolk, VA; Tulsa, OK; Savannah, GA; Wausau, WI; and Tampa, FL.
Segments also appeared online at:
There is no risk in exploring what all the YELLOW is about. Let's have a conversation today. Please follow us on Facebook to stay informed with all our latest news.