The KOA Monthly Research Report – October Edition projects that 8.2 million households are planning to camp this winter. This is a sizeable increase over the 6.9 million households that winter camped in 2021, a growth of 19% in just one year. The increase in winter camping builds on the overall popularity of camping reported in Kampgrounds of America, Inc.'s (KOA) annual North American Camping Report released in April.
Of October respondents, 37% say they will probably or definitely take a camping trip this winter. All in, 1.3 million more households indicate they plan to winter camp compared to last year. This coincides with one-in-four campers saying they plan to take more trips the remainder of the year when compared to 2021.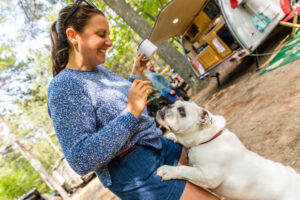 "The growth of interest in camping during the colder months points to just how much the industry is growing and changing," said Whitney Scott, chief marketing officer of Kampgrounds of America. "We are seeing alternative and more experiential activation of camping – it's no longer a seasonal activity."
Long-term snowbird camping, conversely, is expected to see a slight drop in participation. This year nearly 2.2 million households plan to snowbird compared to just over 2.4 million who participated in snowbird camping in 2021. Long-term snowbirds represent 7% of the overall camping market.
Kampgrounds of America, Inc. (KOA) is the world's largest system of open-to-the-public campgrounds with 500+ locations across the U.S. and Canada united under the mission of "connecting people to the outdoors and each other." The industry leader in outdoor hospitality, KOA's family of campground brands – KOA Journey, KOA Holiday and KOA Resort – offer sites and amenities designed for every type of camping experience. In addition to unrivaled brand visibility, KOA offers campground owners unparalleled support, marketing, and technology. The company's proprietary reservation software, K2, deliver's campgrounds a completive advantage within the market.
To learn more about joining the KOA Family of Campgrounds, contact us:
CALL US (800) 548-7239