While we say goodbye to summer, we are preparing for another strong fall camping season. Our advanced deposits on reservations are up 3.7% from where they were at this time last year, which was our strongest fall season in history. Research conducted earlier this month showed that 23% of campers plan to camp more this year than they have in the past, with another 22% saying they plan to do almost all their annual camping this fall. 
The traditional kick-off to fall was down in nights to last year by 4.5% on a same-campground basis but up 7.8% in revenue. Year to date, our business is down in same-campground camper nights by 9% but still ahead in revenue by 4.5%. 
While the slip in nights compared to last year may be concerning, keep in mind that 2021 was an unusual year. With 19 million new camping households over the past two years, our campgrounds saw an unprecedented influx of business. Now, as more companies are having employees return to work, schools are reopened, and COVID restrictions have eased, we see things normalize. But the bar has been set higher. Those new campers are coming back—66% of those households who started camping in 2020 say they are likely to continue camping, as do 43% of those who started camping in 2021. Impressively, we are currently tracking ahead of 2019 by 7.1% in nights and 33.8% in registration revenue!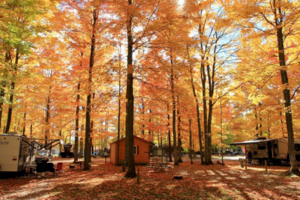 The Resiliency of Camping
It's notable that these results occur amidst high inflation and the pressures campers have felt from the gas pump to the grocery store. Camping is a resilient form of travel and provides the leisure traveler with a viable option even when economic conditions impact their vacations. Few campers cancel all their trips, and most seek an adjustment to their plans in order to still take trips. As recently as August, 38% of campers say inflation has resulted in them wanting to camp closer to home. 
The issues with air travel have had a positive impact on our business. Twenty-six percent report that because of high prices, they are taking more camping trips and camping longer, and 31% say that the recent difficulties and their frustration with airline travel have resulted in them camping more and longer.
And while gas prices have been dropping, they are still nearly 60 cents higher/gallon in the US and 14.1 cents/Liter than where they were a year ago. Fortunately, we saw very slight cancellations and impacts from the high prices in late spring, and the decreasing prices are positively affecting behavior. Thirty-six percent of campers noted that decreasing gas prices has resulted in them taking more or longer camping trips.  
Kampgrounds of America, Inc. (KOA) is the world's largest system of open-to-the-public campgrounds with 500+ locations across the U.S. and Canada united under the mission of "connecting people to the outdoors and each other." The industry leader in outdoor hospitality, KOA's family of campground brands – KOA Journey, KOA Holiday and KOA Resort – offer sites and amenities designed for every type of camping experience. In addition to unrivaled brand visibility, KOA offers campground owners unparalleled support, marketing, and technology. The company's proprietary reservation software, K2, deliver's campgrounds a completive advantage within the market.
To learn more about joining the KOA Family of Campgrounds, contact us:
CALL US (800) 548-7239