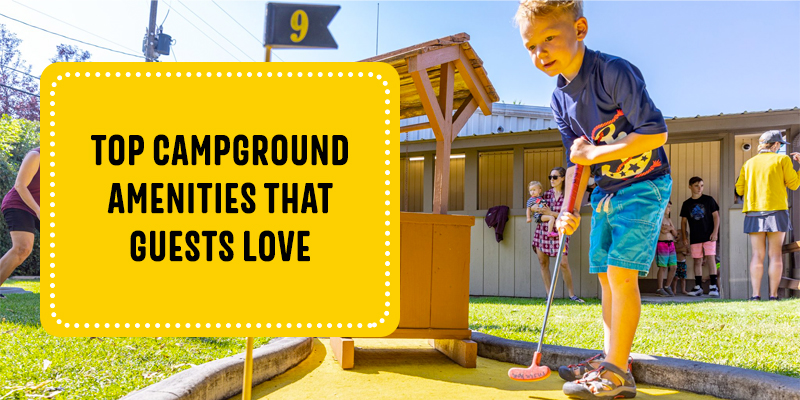 A prosperous campground takes guest preferences into account. Guests expect specific campground amenities when they arrive at a campground, and others enjoy the optional extras that make a campground stand out. Having the right mixture of amenities encourages guests to return and recommend their favorite campground to their friends, which is excellent, considering camping gets more popular every year.
A well-organized campground has something for everyone, from staples like clean bathrooms to more luxury options. Giving guests choices lets them tailor their camping experience to fit their unique needs. Additional amenities can also be lucrative, as guests can rent equipment. Knowing what guests value most can help you create a vacation site with all the best campground amenities they could desire.
The Basics
When people set off for a camping trip, they need to know they will be comfortable and that the basics are readily available. Guests are more likely to come to your campground and leave excellent reviews if you provide them with the following camping amenities:
Clean bathrooms and showers: Toilets and showers are necessary for campers, regardless of whether they prefer a rustic or glamorous experience. To maintain a competitive edge, toilets, and showers must be clean and pleasant. Bathrooms should be cleaned daily and as needed.
Signage: Guests need to be able to orient themselves within their campgrounds. Signage may seem small, but it's essential to people new to your campground. Ease of access to your facilities is vital, as guests want to spend their valuable vacation time engaging in fun activities, not trying to find them.
Level ground for tents: Tent campers love level, dry land. You can provide them extra comfort, ample parking, and added benefits, like electricity hookups and spacious campsites for added privacy.
Spacious patios: RV lovers and tent campers alike appreciate large and spacious patios, complete with outdoor seating areas and fire facilities, so they can get comfortable and enjoy family time while they are away.
Wi-Fi: About 1 in 5 RV owners work remotely from their RV. Guests who need to work for some of their stays will always check whether you have a reliable Wi-Fi connection.
Handicapped access: The best campgrounds provide guests with wheelchair access. Many campers like to visit their favorite campgrounds as a family and may look elsewhere if anyone in their parties has disabilities or uses a wheelchair.
Pull-thrus: RVs can be challenging to drive, so many guests prefer a pull-thru site where they can drive straight into the campgrounds and park with minimal difficulty.
The Activities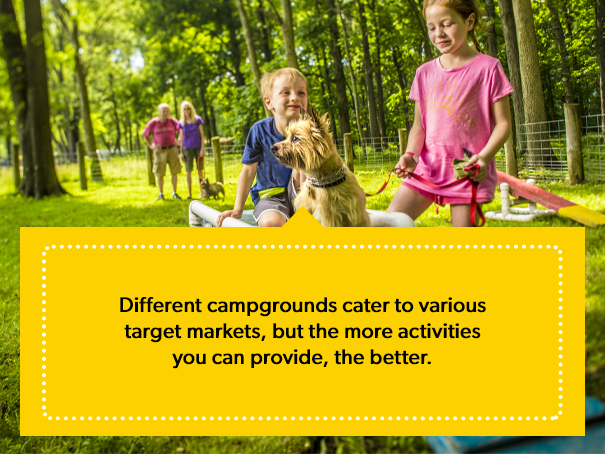 Some guests may prefer to relax on their camping trip and connect with friends and family, while others are looking for an action-packed adventure. Different campgrounds cater to various target markets, but the more activities you can provide, the better. Then it's up to guests whether they take part, but they'll always be excited. Top campground activities to offer guests include the following:
Pet-friendly options: Almost 39% of American Households own a dog and an astounding 37% of travelers hold pet-friendly lodgings as a top priority. With so many guests basing their travel choices on what is available for their four-legged companions, amenities such as dog parks are vital.
Outdoor Fun: Many people choose camping to connect with the outdoors. Providing safe hiking and biking trails is an excellent way to get them to enjoy nature. You can also offer bicycle rentals for an extra perk that guests will love.
Swimming Pools: Swimming is a beautiful way for guests to relax outdoors. Many guests will check whether they can access a swimming pool in summer and whether it's safe for children.
Fire Rings: One of the best things about camping is cooking under the stars or telling stories around the fire. Safe, private fire rings are essential for guests wanting to maximize the camping experience. Consider providing firewood for campers or having some on sale from an accessible location.
Phenomenal views: Your campground's location is important. Guests who like to connect with nature will base their vacation choices, in part, on what they see when they settle down on their patio at the end of a busy day.
Kid-friendly options: For many, camping is an experience for the whole family to enjoy. Guests with children look for activities to keep them busy and encourage them to make new friends. Arts and crafts, campfire nights, and other organized child-friendly activities are a must for family campgrounds.
The Extras
There are ways to set your campground apart from the competition, providing guests with more perks and more ways to enjoy themselves. Some guests prefer a more upmarket 'glamping' experience, while others want an adrenaline rush. What kind of campground you build is entirely up to you, but if you want guests to come back and recommend you to other campers, consider the following:
Hot tubs: Hot tubs are a luxurious way to wind down after a busy day enjoying the outdoors. Consider adding this extra layer of luxury to augment the guest experience.
Glamping options: Glamping — or glamorous camping — is a unique way to blend the joy of nature with home comforts. Deluxe cabins with private bathrooms and other exclusive features attract guests who need more than they would get in a hotel.
Meeting facilities: Whether for corporate retreats or large groups of guests, providing meeting facilities for large groups opens your campground up to a larger audience.
Fishing: Providing guests with fishing options is an ideal way to encourage them to spend more time together. You can offer bait and tackle in your campstore.
Movie nights: It's always best to have entertainment ready for rainy days or even just nights when everyone wants something relaxed.
Tours to local attractions: When people travel, they often like to experience the local area. Organized tours to local attractions let them experience the location's uniqueness without worrying about getting lost or missing out on something special.
Breakfasts: Providing guests with breakfast may not be a camping necessity, but they will certainly appreciate a break from cooking every morning. Local flavors and a special treat like a pancake breakfast are excellent addition guests will remember.
Take Your Campground to the Next Level With Kampgrounds of America, Inc. (KOA)
More than 93.8 million U.S. households consider themselves campers. With over 500 campgrounds across the U.S. and Canada and over six decades of experience, KOA is a powerful and recognized brand that provides quality service and amenities that guests can trust. You, too, can give yourself an excellent business opportunity by buying, building, or converting your existing campground.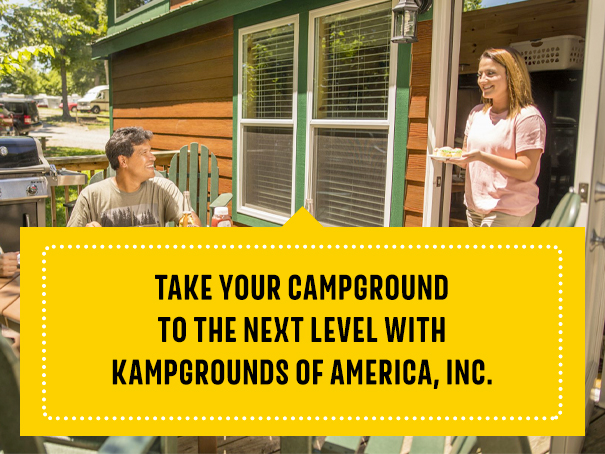 KOA camping grounds offer a variety of amenities, allowing campers to tailor their experience. If you would like to learn more about the KOA difference and how owning a campground can be an exciting and rewarding experience, please request additional information and start your journey with the KOA family today.